Bikaner Tour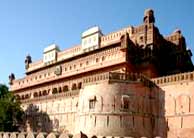 Lying in the north of the desert state, the city is dotted with scores of sand dunes. Bikaner retains the medieval grandeur that permeates the city's lifestyle. More readily called the camel country, the city is distinguished for the best riding camels in the world and hence boasts of having one of the largest Camel research and breeading farm in the world. The ship of the desert is an inseparable part of life here. A camel besides doing transportation duties, also works on wells. These are built on high plinths with slender minarets on each of the four corners and can be noticed even from a distance.
The history of Bikaner dates back to 1488 when a Rathore prince, Rao Bikaji founded his kingdom. Bikaji was one the five sons of Rao Jodhaji the illustrious founder of Jodhpur. But Rao Bikaji was the most adventurous of them. It is said that an insensitive remark from his father about his whispering in the Durbar provoked Bikaji to set up his
own kingdom towards the north of Jodhpur. The barren wilderness called Jangladesh became his focus point and he transformed it to an impressive city. He accomplished his task with 100 cavalry horses and 500 soldiers, and established his kingdom on 84 villages abandoned by the 'Shankhlas'. When Bikaji died in 1504 his rule had extended to over 3000 villages.
JUNAGARH FORT
It is an unassailable fortress, which has never been conquered. Built in 1593 A.D. by Raja Rai Singh, one of the most distinguished generals in the army of Emperor Akbar, the fort is a formidable structure encircled by a moat.
The main entrance to the fort is Karan Pol [gate], that is east facing. Next to it is the Suraj Pol meaning the sun gate. The fort situates in it some very magnificent palaces like Anup Mahal, Ganga Niwas and Rang Mahal or palace of pleasure. The Har Mandir is the majestic chapel for the royal family for worshipping their gods and goddesses. These palaces, constructed in red sandstone and marble, make a picturesque ensemble of courtyards, balconies, kiosks and windows dotted all over the structure. The premises also houses a museum which is an array of a rich collection .
LALLGARH PALACE
This grand palace is an architectural masterwork in red sandstone, and was built by Maharaja Ganga Singh Ji in the memory of his father Maharaja Lal Singh Ji in 1902. Sir Swinton Jacob designed this oriental fantasy. This architecture is a fusion of Rajput, Mughal and European architecture. The exterior contrasts dramatically with the oriental interiors and amenities.
The palace has beautiful latticework and filigree work, which are hallmarks of a great craftsmanship.
The Palace has an amazing collection of well-maintained paintings and hunting trophies. Sprawling lawns with blooming bougainvillea and dancing peacocks make a visual extravagance.
GAJNER PALACE
HRH Gajner Palace, Gajner near Bikaner (Rajasthan, India) is an incomparable jewel in the Thar Desert is built on the embankment of a lake. Built by H.H. Maharaja Sir Ganga Singhji of Bikaner, this Grand Heritage property is spread over 6000 acres. Gajner Palace was used as a hunting resort by the former Maharajas and visiting British dignitaries during the days of the Raj.
KARNI MATA TEMPLE (RATS TEMPLE)
Karni Mata Temple is a popular and unusual holy shrine of India. This Temple is in a small town of Deshnok, which is located at a distance of 30 kms in south of Bikaner in Rajasthan. Karni Mata Mandir is easily accessible by regular buses from Bikaner and Jodhpur. To ensure a comfortable journey, one can also opt for taxis that can be availed from anywhere in Rajasthan. The temple is dedicated to Goddess Karni, who is regarded as the incarnation of Maa Durga.
BHANDESHWAR AND SANDESHWAR TEMPLES
These Jain temples were built by two brothers and named after them-the Bhandeshwar temple-rich in mirror work and the Sandeshwar temple-stylized enamel and gold leaf wall paintings. The temples are dedicated to 23rd Jain teerthankar, Parsvanathji.
SHIV BARI TEMPLE
This beautiful temple was built by Maharaja Doongar Singhji and is also referred to as the Laleshwar Mahadeo Temple by the locals.
The huge black marble statue of Lord Shiva is the most notable feature of the Shiv Bari Temple. Besides, the temple is a wonderful collage of well-crafted pavilions, columns and impressive domes that speak a lot of about their creator's creative genius.
Built in red sandstone, the Shiv Bari Temple in Bikaner also displays a rich collection of miniature paintings that represent the artistic and cultural traditions of Tourist Attractions of Bikaner. Moreover, the huge stone reservoirs located within the temple complex are sure to draw your attention.
BHAIRONJI TEMPLE
The Bhairon Vilas Palace hotel in Bikaner is one of the best examples of Rajput architecture. Built in the year 1872, it was also the personal residence of Maharaja Bhairon Singh Ji. Bhairon Vilas in Bikaner has always been in the news for the Bhairon temple. This Haveli has already been a landmark because many dignitaries have visited this wonderful work of art. Almost all the Viceroys and Governor Generals of India have visited this place.
GANGA SINGH MUSEUM
Ganga Singh Museum is considered to be the best in Rajasthan for its treasure trove of artefacts from Harappan and Gupta periods. Paintings, terracotta, carpets, pottery, art and crafts, and Rajput weapons are on display. It is open from 10.30 AM to 4.30 PM each day except Fridays and public holidays and has an entry fee of Rs 3.
SUN GATE
It is the main entrance to the fort. among the notable of these places are the exquisitely beautiful Chandra Mahal with marvelous paintings, mirrors and carved marble panels and the Phool Mahal ornate with glass and mirror work.
KALIBANGAN
Admire historic ruins at Kalibangan on your excursions from Bikaner with Indian Horizons. Kalibangan is of immense historical importance as it was an important part of the ancient Indus Valley Civilization that flourished in between 3000 B.C. to 5000 B.C.
The ruins at Kalibangan, Bikaner give evidence about pre-Harappan and Harappan civilizations and also contains evidences of how the Harappan civilization evolved from the pre-Harappan civilization. Delight in the thrilling experience of unearthing historical secrets that intrigue your curiosity.
SHRI SADUL MUSEUM
Shri Sadul Museum is located at Lalgarh Palace, the red sandstone palace located in Bikaner. It is housed in the Ganga Niwas, which covers the entire first floor of the palace. The museum displays a unique collection of miniature paintings, manuscripts, weaponry and old photos depicting royal hunts. It also houses the personal possessions of former Bikaner rulers, which includes golf tees, camera, clothes, books and earplugs. The museum is open daily from 10:00 to 17:00 hrs, except on Wednesdays. It can be visited on a small entrance fee. Photography is not allowed. Shri Sadul Museum is about 3 km from Bikaner Junction Railway Station and 2 km north of downtown area.
THE RAJASTHAN STATE ARCHIVES
The Rajasthan State Archives in Bikaner is one of the most worth visiting spots and is counted among the top Museums and Galleries in Rajasthan. It holds some very invaluable administrative records of Mughal Period such as Persian Farmans, Nishans, Manshurs, Akbarat, Vakil Report, Arzdasht and Khatoot. It also contains interesting records that were created during the administration of the Princely states of Rajasthan such as Bahiat, Pattas, Parwanas, Rukkas, Chithiat and so on.The Bikaner Rajasthan State Archives is obviously one of the very famous tourist spots for housing unmatched and truly priceless collection of records. The record it holds is very significant to researchers all over the world. Besides, this custodian of ancient records also offers amazing facilities like microfilming, reference library and research rooms which help researchers immensely. This apart, it also exhibits few very important documents to serve the tourist interest.
KATARIASAR VILLAGE
Situated approximately 45 km from Bikaner, on the Jaipur road, is the Katariasar village. The village provides a window into the ethnic rural and cultural life of Rajasthan. The village has a rich wildlife around it, consisting of Chinkara, Desert fox, Rabbit, Peacock, Parrot, Pat, etc. this village is also famous for its fire dancers, performing to the beat of drums on a bed of burning coals.
DEVI KUND
Devi Kund sagar is situated 8 km in the east of city. The members of ruling family of Bikaner subsequent to Jet Singh, the great grandson of Rao Bikaji, have been cremated here. On the sides of reservoir of water lie the Royal cenotaphs of rulers of Bikaner dynasty from Rao Kalyan Singhji to last Maharaji Karni Singhji as well as those of their wives and other important members of families.There are cenotaphs (Chhatries) of 22 SATIES of royal family prior to Maharaja Gaj Sigh Ji (1745-1787). There is also one cenotaph of a SATA (male sati) of a ruler.The architecture of the cenotaphs is the prime attraction of this place. Maharaja Surat Singh's Chhatri is built entirely in white marble with spectacular Rajput paintings on its ceiling. Close by is a Dargah of Rustal Ali Shah Peer which is held in high esteem by muslim community and other people.
GAJNER WILDLIFE SANCTUARY
This reserve and the forested hills are 32 km from Bikaner on the Jaisalmer road, are inhabuted by wildfowl, hares , wild boar, desert foxes and a number of deer and antelopes including blackbucks and bluebulls. The lake at Gajner attracts water birds in thousands. Imperial sand gouse migrate here in winter. Gajner Wildlife Sanctuary, houses the former Hunting lodge of Bikaner and has a beautiful lake surrounded by a dense forest.
There is no other infrasturcture or accomodation for infrasturucture for Visitors except Gajner Palace Hotel and, there are no authorised guides at the sancuary. The reserve is only accesible through Gajner Palace Hotel vehicles( which can be hired by the non-guests aslo). Jeeps can take maximum six people.
THE CAMEL BREEDING FARM
Bikaner-Camel Breeding Farm is one of the most preferred tours from Bikaner. The Camel Breeding Farm of Bikaner was founded by the Indian Council of Agricultural Research on July 1984. The Camel Breeding Farm is one of the largest camel farms of Asia and is located at Jorbeer, Bikaner.
The Camel Breeding Farm of Bikaner, popularly known as Government Camel Breeding Farm, breeds the finest of camels in Bikaner. The Bikaner Camel Breeding Farm also conducts researches and experiments on the camels. The results obtained from the experiments are used to promote camel breeding. The Camel Breeding Farm in Bikaner employs the 'Raikas' or 'Rebars', local camel breeders, and aims towards making camel economically advantageous for the camel rearer of Bikaner.
KOLYATJI
Kolyat is located 50 kilometres from Bikaner. It is a temple complex of Kolyat and a holy place of pilgrimage for Hindus. The legend has it that Kapil Muni the advocate of Shankya yoga of the Hindu philosophy while journeying towards northwest was struck by the tranquility and peace of this place and chose to perform tapasya (penance) here for the redemption of the world. This place has since acquired great sanctity. The complex has several temples, pavilions and bathing ghats. A dip in the holy waters of the lake especially on Kartik Poornima (November) is considered very auspicious.