Tal Chapar Sanctuary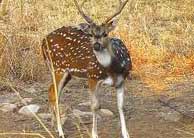 Introduction
Area of the Sanctuary is 719 ha.
Location and area Description
-Situated close to Chapar town of Churu District an Sujangarh-Nokha state Highway.
-Small sanctuary further divided into two parts by Sujangarh-Chapar State Highway.
-Not divided into Core and Buffer like other parks.
History and Background
-Prior to Independence Tal Chapar was a Private Hunting Reserve of Maharaja of Bikaner.
-Black Buck was introduced in by Maharaja Bikaner in 1920.
-The population of Black Bucks in the Sanctuary has changed drastically since their introduction
1959 - 175
1962 - 250
1972 - 323
1987 - 949
1990-2006 - 1500 - 1750 approx.
Legal Status
-Notified as Sanctuary under section 5 of Wild Animals and Bird Protection Act 1951, on May 11, 1966.
-Rights of Tal Chapar Sanctuary has been settled by District Collector Churu vide Notification No. 832 dated 24th August 1998.
-Tal Chaper Sanctuary is being managed as per the provisions of approved Management Plan.
The Geology of the zone is obscured by the wind blown over-burden. Some small hillocks and exposed rocks of slate and quartzite are found in the western side of the sanctuary. Area between hillocks and the sanctuary constitutes the watershed area of the sanctuary. The whole sanctuary used to be flooded by water during the heavy rains but with salt mining going on in the watershed. Hardly any rain water falling on the hillocks reach the Sanctuary.
The Tal Chapper sanctuary lies in the Sujangarh Tehsil of Churu District, Situated in the North-East part of Rajasthan. It lies on Nokha- Sujangarh state Highway and is situated at a distance of 85 KM from Churu & about 132 Km from Bikaner. The nearest Railway station is Chapper which lies on Degana - Churu - Rewari metre gauge line of Northen Western Railways.