Desert National Park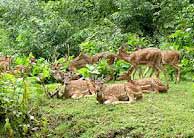 Location:
Jaisalmer
Flora:
Dhok, Ronj, Salai, Bear and Palm Trees
Sight Seeing:
Rajbaugh Lake, Milak Talao Lake and Padam Talao Lake
Desert National Park
The Desert National Park is an excellent example of the ecosystem of the Thar Desert and its rich fauna. The Sudashri forest post is the most ideal place for observing wildlife in the Desert National Park. Sand dunes form less than 20 percent of the Park, which consists of craggy rocks, pavements and compact salt lake bottoms, intermedial areas and fixed dunes.
Its inhabitants include the blackbuck, chinkara, wolf, Indian fox, desert fox, hare and desert cat. Flights of sand frouse start coming to waterholes from sunrise onwards. One also hear the morning call of the grey partridge. Blue tailed and green bee-eaters, drongos, common and bush quail and Indian rollers are birds, which are commonly found around waterholes. the park is also home to the great Indian Bustard which is peril of extinction.
There are three main lakes in this sanctuary - Rajbaugh Lake, Milak Talao Lake and Padam Talao Lake. These lakes are the major watering holes for the inhabitants of the national park. The rich flora of the park consists of Dhok, Ronj, Salai, Bear and Palm Trees. Covering approximately twenty percent area of the park are the sand dunes. Craggy rocks and compact salt lake bottoms, inter medial areas and fixed dunes form the unique features of the landscape of the Desert National Park.Birdlife in this sandy habitat is vivid and spectacular. Birds such as the Sand Grouse, Partridges, Bee-Eaters, Larks and Shrikes are commonly seen. Demoiselle Crane and Houbara arrive in the winter. The birds of prey seen here are tawny and Steppe Eagles, long legged and honey buzzards, falcons and kestrels. But the most outstanding of the avifauna is the great Indian bustard. This tall, heavy bird is an epitome of confidence and grace. Sudashri, a forest post located in the park, is the best place for spotting the wildlife of the Desert National Park and provides ideal conditions for snapshots. It is a good sight for bird lovers to see five or six bustards near Sudashri water hole. The Black Buck, Desert Fox, Wolf and Desert Cat are some of the animals that oblige the tourists with an occasional visit.
How to Reach Desert National Park?
By Air:
The nearest airport is at Jodhpur, which is connected to other cities in Rajasthan.
By Train:
The nearest railhead is at Jaisalmer, which is connected to other places in Rajasthan.
By Road:
The nearest major city is Jaisalmer. Bus and taxis are available.