Sajjangarh Sanctuary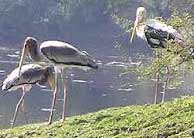 Location:
Udaipur
Best time to visit:
October to February
Fauna:
Panther, Hyena, Jackal, Nilgai, Chital, Sambar and Wild Boar.
Sajjangarh Sanctuary
Sajjangarh Wildlife Sanctuary is situated 5kms in the West of tourist city Udaipur, which surrounds the Sajjangarh Palace overlooking Udaipur City. From the palace, one can have a magnificent view of lakes of Udaipur and Aravalli hill ranges. The view of Sunrise and Sunset attracts every visitor atop of Bansdara hill.
The Sajjangarh Sanctuary is home to a variety of animals like the Panther, Hyena and Jackal. The sanctuary also boasts of many exotic species like the Nilgai, Chital, Sambar and Wild Boar. The avian population is also well represented by a number of local and migratory birds. Besides, the park is also home to a variety of reptiles and insects. With a lush green cover to boast of, the Sajjangarh Sanctuary offers excellent opportunities for safaris, treks and nature walks. The Bansdara Hill situated within the park offers stunning views of the sun setting and rising over the horizon.
Foreign visitors to the Sajjangarh Sanctuary have to pay an entry fee of Rs 80 per person while Indian citizens pay Rs 10 per person.
Safari Park was created and wild animals like Chital, Sambar, Wild Boar, and Blue Bull were reintroduced. Animals like Panther, Hyena, Hare and Jackal has reappeared apart from variety of reptiles and birds. The wall extended further and now the entire hillock has been fenced, improving the vegetal cover of the sanctuary area.
In the Hills, at a short distance on the North-West of Sajjangarh, there is an artificial lake named Jiyan Sagar, popularly known as "Bari Lake" or "Tiger Lake". The lake was constructed by Maharana Raj Singhji, the ex-ruler of Mewar, in 1664 AD and was named after Jana Devi, the mother of the Maharana. The lake has an area of 1.25 square miles with a storage capacity of 400 million cubic feet of water.
Safari Park
Herbivores like Chital, Sambar, Blue Bull, Wild Boar etc. have been reintroduced in the Safari Park to view the wild animals from dose quarters. A network of forest roads has been provided to reach different parts of the Safari Park.
Jhar Water Hole & Mahua Grove
Situated on western aspect of Bansdara hills is a perennial source of water "Jhar Water Hole", surrounded by number of ancient Mahua trees. Temple of Lord 'Shiva' is in close vicinity of this sacred grove. One can experience the effect of microclimate created by the surrounding forest area sitting at this place. During rainy season, the springs flowing through the area adds the beauty many more times.
Maharana Pratap Nature Trail
From Gorilla viewpoint one can track to Bari Lake through this nature trail and can study the beautiful geographical features of Aravali hills along with rich flora and fauna present in the area.
MAIN ATTRACTIONS
Tiger Lake
Located a few kilometers to the north west of Sajjangarh, the Tiger Lake (Jiyan Sagar) was constructed by Maharana Raj Singhji in 1664 AD. Named after his mother Jana Devi, the lake covers an area of 1.25 sq miles and can store around 400 million cubic feet of water.
Sajjangarh Fort
The fort was built by Maharana Sajjan Singh in the 18th century. It is located on the outskirts of Udaipur and has been converted into a hunting lodge that attracts many across the globe.
Shiva Temple
This ancient temple is a must visit site for anyone touring the region.
Rajasthan Holiday offers online bookings for its Rajasthan holiday packages. For details, please fill up the form given below.
How to Reach Sajjangarh Sanctuary?
Airport :
Nearest Airport Udaipur.
Railways :
Nearest Rail Head Udaipur.
Roadways :
The nearest major city is Udaipur. Daily buses and taxis are available.