Darrah Sanctuary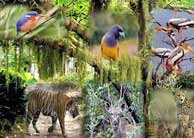 Best time to visit:
October to June
Fauna:
Wolf, Cheetah, Nilgai, Deer and Wild Boar
Location:
50 km away from Kota
Darrah Sanctuary
The Darrah Sanctuary is spread over an area of 250 sq. km and is strategically located 50 km away from the town of Kota. In the days of yore, Darrah Sanctuary used to be the royal hunting ground of the erstwhile maharaja of Kota. This sanctuary is densely wooded and is spread over a hilly terrain. The Darrah Sanctuary was officially declared as a protected area in 1955. Some of the resident species of this mysterious sanctuary are Wolf, Cheetah, Nilgai, Deer and Wild Boar. The Forest Department runs a Rest House at Darrah Sanctuary but the amenities are basic and at best sketchy.
A visit to Darrah Sanctuary can be complimented by a visit to Jhalwar, which is in close proximity to the sanctuary. There is a marvelous fort but is in urgent need of restoration. The Jenana Khas is particularly very attractive and is located inside the fort. There is Jhairapatan, which is renowned for the ruins of the Sun temple which was built way back in the 10th century. A plethora of ancient temples, most of them built between the 7th - 8th centuries are located along the banks of Chandrabhaga River. Visiting the haunting Darrah Sanctuary is a very rewarding experience as it provides not only the wild side of Rajasthan but also its rich past. One has to bear in mind that the sanctuary is out of bounds to visitors from July till September.
Today, the Darrah Sanctuary boasts of a rich wildlife population consisting of leopards, wolves, sloth bears and chinkaras. The sanctuary is also home to a number of birds and reptiles. The best time to visit Darrah is from February to May as the sanctuary sometimes remains closed from July to September.
Adventure freaks and wildlife enthusiasts can look forward to a wonderful time at Darrah. Indeed from jungle safaris to treks, there are lots to see and do at the Darrah Sanctuary. Besides, the sanctuary is also home to many rare trees and plants with medicinal values.
Visitors need to obtain permission from the forest ranger or the district forest office before entering the Darrah Sanctuary. Foreign tourists need to pay an entry fee of Rs 100 per person while it is Rs 20 per person for local visitors.
How to Reach Darrah Wildlife Sanctuary
By Air:
Neaerst Airport Udaipur. Several flights are from Delhi, Mumbai and other parts of India.
By Train:
Nearest Rail Head, Kota on the Delhi Mumbai Rail Route. Several trains are a day from Delhi, Mumbai, Agra, and Jaipur.
By Road:
Around 50 km from Kota.