Ranthambore Tour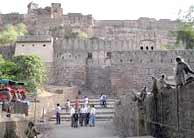 Best time to visit:
October to February
Flora:
Ancient Banyan Trees, Dhok & Pipal Trees and Mango Trees
Fauna:
Indian Horned Owl, Eagles, Parakeets, Spoonbills, Kingfishers, Partridge
Situated in Eastern Rajasthan, Ranthambore National Park is famous for its tigers and is one of the best places in the country to see these majestic predators in the wild. The tigers can be easily spotted even during the day. A good time to visit is between October and April when the nature of the dry deciduous forests makes sightings common. This park covers 1334 sq km, its wild jungle scrub hemmed in by steep crags. The Park is set between the Aravali and Vindhya ranges. Its deciduous forests were once a part of the magnificent jungles of Central India. Within it one can also see crumbling temples and mosques, the 10th century Ranthambore Fort, blue-green, crocodile-filled lakes, chhatris and 'hides'. The park was a maharajas' hunting ground till 1970 – a curious 15 years after it had become a sanctuary.
Ranthambore is where you are most likely to spot a tiger on safari. For a relatively small area, the park has a rich diversity of fauna and flora - species list includes 300 trees, 50 aquatic plants, 272 birds, and 12 reptiles including the Marsh Crocodile & amphibians and 30 mammals.
For the wildlife savvy, Ranthambore wildlife sanctuary today offers an intense diversity of flora and fauna. The landscape is dotted with ancient Banyan Trees, Dhok & Pipal trees, clusters of mango trees and crisscrossed with evergreen belts. The terrain is made up of massive rock formations, steep scarps, perennial lakes and streams and forest suddenly opening up into large areas of Savannah. The terrain of Ranthambore Wildlife Sanctuary fluctuates between impregnable forests and open bush land. The forest is the typically dry deciduous type, with Dhok, being the most prominent tree.
Ranthambore National Park is famous for its Tigers and is a favorite with photographers. Tigers; the park's pride makes it one of the best places in the country to observe them. Apart from that a large numbers of Sambar, Chital, Nilgai, Gazelle, Boars, Mongoose, Indian Hare, Monitor Lizards and a large number of birds.
Ranthambore is also home to about 270 species of birds including a large number of migratory birds. Some of the many varieties of bird life found here are the great Indian horned owl, eagles, parakeets, spoonbills, kingfishers, partridge, quail, storks, owls, geese and ducks. But the most visible bird in Ranthambore is the peacock, India's National bird.
Wildlife Safaris
Ranthambore National Park closes during the monsoon. Safaris take place in the early morning and late afternoon. The best way to travel is by jeep, which takes five people. You still have a good chance of seeing a tiger from a canter. Safaris take three hours. From October to February both canters and jeeps leave at 7am and 2.30 pm.
How to Reach Ranthambore National Park ?
By Air:
Jaipur at 145 km is the nearest airport from Ranthambore wildlife sanctuary.
By Train:
Ranthambore National Park is around 11 km away from Sawai Madhopur railway station that lies on the Delhi to Bombay trunk route.
By Road:
A good network of buses is connecting Sawai Madhopur, the nearest town from Ranthambore to all the major cities within the state of Rajasthan.